Plastics Pile Up as China Refuses to Take the West's Recycling
01.15.2018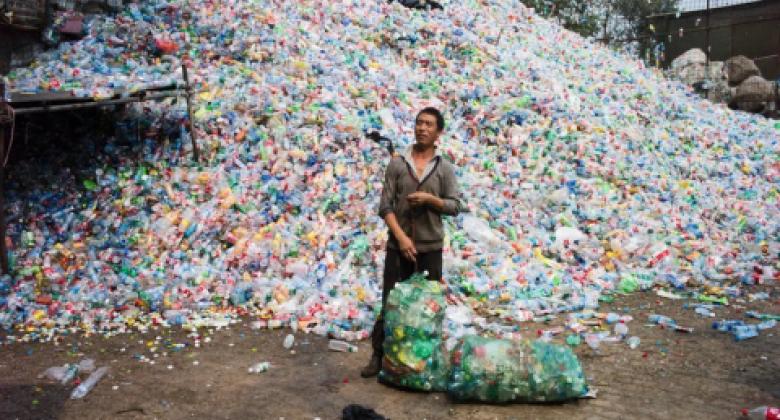 LONDON — Ever since China announced last year that it no longer wanted to be the "world's garbage dump," recycling about half of the globe's plastics and paper products, Western nations have been puzzling over what to do when the ban went into effect, which it did on Jan. 1.
The answer, to date, in Britain at least, is nothing. At least one waste disposal site in London is already seeing a buildup of plastic recyclables and has had to pay to have some of it removed.
Similar backups have been reported in Canada, Ireland, Germany and several other European nations, while tons of rubbish is piling up in port cities like Hong Kong.
Steve Frank, of Pioneer Recycling in Oregon, owns two plants that collect and sort 220,000 tons of recyclable materials each year. A majority of it was until recently exported to China.
"My inventory is out of control," he said.
China's ban, Mr. Frank said, has caused "a major upset of the flow of global recyclables." Now, he said, he is hoping to export waste to countries like Indonesia, India, Vietnam, Malaysia — "anywhere we can" — but "they can't make up the difference.
In Britain, Jacqueline O'Donovan, managing director of the British waste disposal firm, O'Donovan Waste Disposal, said that "the market has completely changed" since China's decision went into effect. Her company collects and disposes of about 70,000 tons of plastic trash every year, she said, and expects "huge bottlenecks across the whole of England" in the coming months.
Britain's prime minister, Theresa May, pledged on Thursday to eliminate avoidable wastes within 25 years. In a prepared speech, she urged supermarkets to introduce plastic-free aisles where all the food is loose.
The European Union, for its part, plans to propose a tax on plastic bags and packaging, citing the China ban and the health of the oceans among other reasons.
Those measures might help ease the situation some day, but for now Britain is faced with growing piles of recyclables and no place to put them. Experts say the immediate response to the crisis may well be to turn to incineration or landfills — both harmful to the environment.
China's ban covers imports of 24 kinds of solid waste, including unsorted paper and the low-grade polyethylene terephthalate used in plastic bottles, as part of a broad cleanup effort and a campaign against "yang laji," or "foreign garbage." It also sets new limits on the levels of impurities in other recyclables.
China had been processing at least half of the world's exports of waste paper, metals and used plastic — 7.3 million tons in 2016, according to recent industry data. Last July, China notified the World Trade Organization that it intended to ban some imports of trash, saying the action was needed to protect the environment and improve public health.
"Large amounts of dirty wastes or even hazardous wastes are mixed in the solid waste that can be used as raw materials," Beijing wrote to the W.T.O. "This polluted China's environment seriously."
Chinese officials also complained that much of the recyclable material the country received from overseas had not been properly cleaned or was mixed with non-recyclable materials.
The sudden move has left Western countries scrambling to deal with a buildup of plastic and paper garbage while looking for new markets for the waste.
"It's not just a U.K. problem," said Simon Ellin, chief executive of the Recycling Association in Britain. "The rest of the world is thinking, 'What can we do?' It's tough times."